A bartering agreement has been made, and I will be trying to recreate the tabletwoven band that sits between the brooches but above the pleated fabric of the actual smokkr, as described in the paper The aprondress from Køstrup (grave ACQ).
Step one was acquisition of the wool; I will be going with commercially dyed wool since this needs to be done by late May (which is sooner than it sounds).  I bought 20/2 Mora wool in four colours: blue for the background and then white, yellow, and red for the brocading.  As you can see from the pictures below, I may have a slight surfeit of the brocading wool.  Luckily wool can be used for more than one project at a time, no?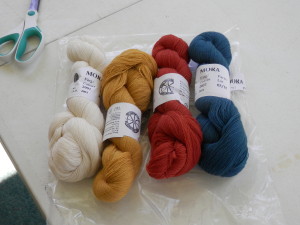 This is how the wool arrives from the vendor; in skeins that need to be wound off into balls to be useful for warping.
Step two was turning the acquired skeins of yarn into something I could warp.  Swift and ball winder to the rescue.  Note that the swift is constructed similarly to an old Viking horizontal swift, and is made entirely of wood, with the exception of the metal washer I added to facilitate the turning of the arms.  The ball winder, in contrast, is thoroughly modern but faster than a nostepinne.  And while it's sunny, it's not that warm outside.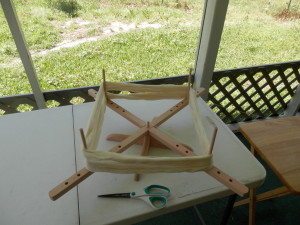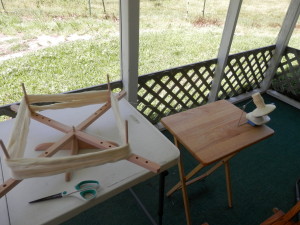 The skein is mounted on a horizontal swift and then the end is found.  After untying the skein, the end is fed into a ball winder and the turning begins.  Each skein was wound into four very roughly equal balls of wool; sizes were eyeballed.
The advantage of having four balls is that I can quickwarp, when I get t that stage.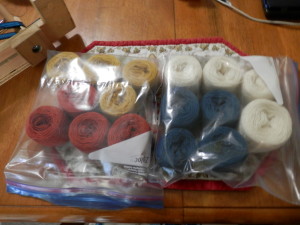 Several hours later, all four skeins have been turned into center-pull balls of wool, ready for the next stage.
To be continued …