So it started with the green pouch, which was knitted on 000 needles with 2/18 merino wool, and each side was 33 stitches wide. The green pouch is a cute little pouch, and the other side is actually a reverse image colour wise, as you can see in the picture below where the needles are rearranged so that the eventual side seam is in the center of the picture.
So in the new blue and white pouch I had some design choices to make. For starters, I wanted to make it larger, so decided I would use larger needles – 00 rather than 000 – and I would have three pattern repeats across a side rather than two. Switching the needle size results in a slightly less dense fabric after finishing; when I knit this wool the 000 ends up being just a little tight. The 00 size is hitting a sweet spot; 0 produces a light and flowy fabric that is not ideal for pouches. (So now I have to train Sammie to stop eating the pink knitting needles, those being the size 00 ones.)
So I was just going to grab the previous pattern and insert an extra flower. Easy. The original pattern is 33 stitches wide – 2 times 16 and a 1 stitche repeat on the edge, so just add another 16 stitches making each side 49 stitches wide.
It wasn't until I'd knitting past the row of 6 florets on the top that I grabbed the graphed pattern and realized my mistake. In the original pattern the flowers are not in the middle of each half of the pouch, but are a little closer to the center. Adding another flower means adding 13 stitches, not 16. But I was already half an inch into the pouch, which means I'd been knitting for well over an hour. Time to pull out the inkscape again and fix the problem.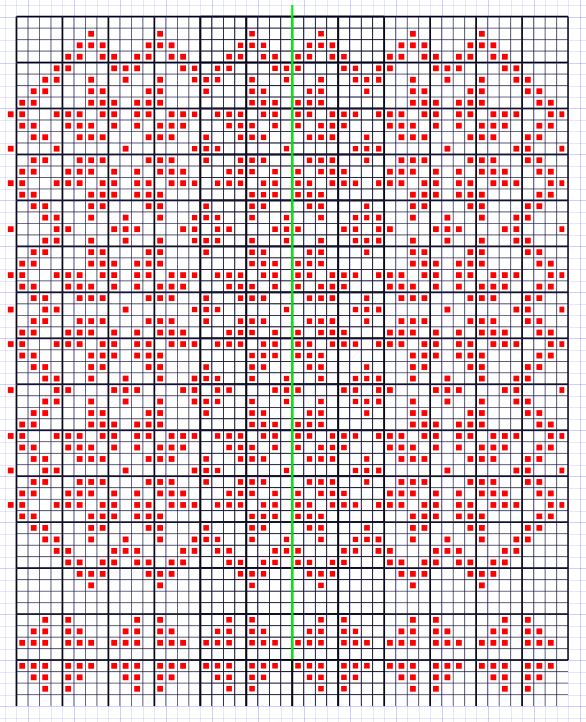 So this pattern looks a little odd because of the dots on the left side; that's the 49th stitch which didn't fit on the graph but is there. (Since someone asked, as always, the pattern is knitted from the bottom up, which is a habit I developed while tablet weaving. It doesn't matter much either way, but knitting it top down results in the little crosses not looking like fleur de lys.) The green line, by the way, is the dividing line between two of the four needles holding stitches. I knit these using 5 double pointed needles, so each side of the pouch is 2 needles wide.