Brickstitch is quite addictive in a lot of ways; it's very geometric and the final product often looks as though the fabric was woven rather than embroidered, especially from a distance.
I hypothesize that this is due to the embroidery stitches all being parallel.
In any case, I like to work patterns out in a software program called inkscape which is a free vector based drawing program available in windows, mac os, and linux (and I use it under linux).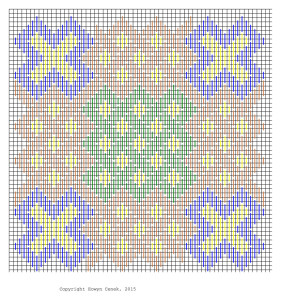 So I was doodling, and created the following pattern.  In dark colours you can't see the implied knotwork (in black the boundaries are just plain invisible, sadly) but in lighter colours the knotwork should be subtle but visible.  Since I will be embroidering an entire pouch in gold, green, and blue for the hubby, we will test that theory most assiduously.
Except that hubby wants the following colour changes:
blue and green become medium blue
tan becomes green (but I'm going to use two tones of green since each figure 8 is actually two intertwined ribbons)
yellow becomes gold.